A seminar on "Protecting intellectual property right stringently to promote innovation development" was held in Nanjing, Jiangsu province, from May 11 to 12.
The seminar was hosted by the Jiangsu Provincial High People's Court. It mainly focused on three topics--strongest protection of the internet economy, innovation of IP technology and mechanism, and ascertainment of IPR market value.
Luo Dongchuan, vice-president of the Supreme People's Court (SPC) and head of the SPC's Intellectual Property Court, attended the seminar and delivered a keynote speech.
He pointed out that courts should continue to optimize the IPR trial system and mechanism to comprehensively improve the dominant role of justice in IPR protection. He also urged in-depth research on IPR courts system construction and improving the unified evidence system of technology-related IP litigation.
Courts should positively seek for practical solutions on technical IPR disputes through optimizing diversified technical facts-finding system and improving trial efficiency, Luo said.
Luo stressed that courts must strengthen IPR protection by using evidence system and alleviating burden of proof on part of the IP right holders according to adjudication rules. The application of punitive damages, guided by the market value, should also be enhanced.
According to Luo, the establishment of the Intellectual Property Court is an opportunity to further develop modern trial capacity and improve judicial engagement in innovation protection.
He also emphasized to cultivate a strong team for IPR protection by strengthening construction of intelligent courts and increasing the adoption of high-tech devices so that trials become more efficient, effective and convenient.
Xia Daohu, president of the Jiangsu Provincial High People's Court; Wu Handong, honorable chairman of the Intellectual Property Law Association; and Cao Hongying, deputy director of the IPR protection department of the China National Intellectual Property Administration also gave speeches at the conference.
Also present at the meeting were representatives from IP-related trial organs, management departments, colleges and research centers, innovative enterprises and the press.
During the period, Luo also visited the Nanjing Intellectual Property Court and learned about the problems of the link-up procedure of the first and second instance.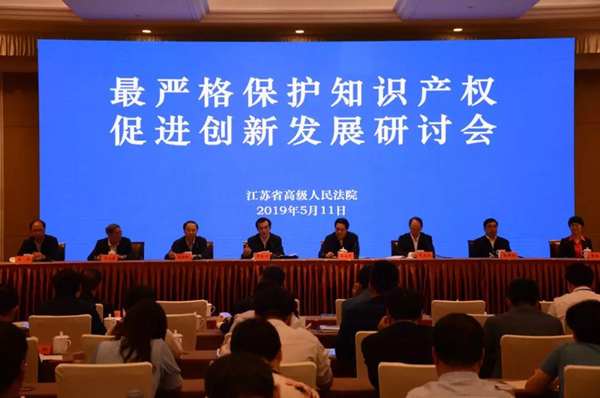 The Jiangsu Provincial High People's Court held a seminar on "Protecting Intellectual Property Right Stringently to Promote Innovation Development" in Nanjing, Jiangsu province, from May 11 to 12. [Photo/enipc.gov.cn]