Hot issues in the medical biological field were discussed during a seminar between the Intellectual Property Court of the Supreme People's Court and INTERPAT on June 24.
Zhou Xiang, deputy chief judge of the Intellectual Property Court, welcomed Andrew Jenner, secretary-general of INTERPAT, and outlined the background of the establishment of the court and its goals.
He pointed out that the court promotes unification of trial criteria, improves trial efficiency, strengthens public trust in justice and increases the impact of China's intellectual property trials.
In addition, the court plays a significant role in promoting China's participation in the international judicial protection of intellectual property rights (IPR).
Andrew Jenner, director-general of INTERPAT, expressed his gratitude for the welcome and said that INTERPAT is highly concerned with the establishment of the Intellectual Property Court. He stressed his belief that the court will evolve into a leading role in the enforcement of international patent judgments.
He added that he expects the court to make great effect in protecting innovation in China.
Both sides showed their willingness to increase exchanges and cooperation to promote development of IPR protection in the bio-medicine field.
Issues such as supplementary submission of experimental data of bio-medical patents and obtaining marketing approval from drug administration before the expiry date of the patent were also discussed at the meeting.
Chaired by Zhou, the seminar was also presented by presiding judges Luo Xia and Jiao Yan, as well as Judge Ren Xiaolan and Assistant Judge Liu Xinlei.
Before the meeting, the INTERPAT delegation visited the litigation service center and the First Court of the Intellectual Property Court, learned the informatization construction of the court and watched a video introducing the court.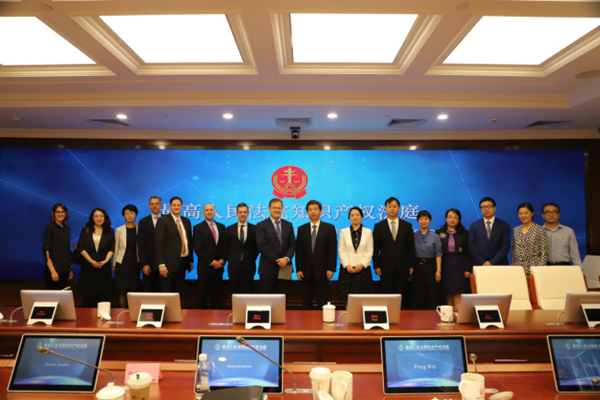 The INTERPAT delegation visited the Intellectual Property Court in Beijing on June 24. [Photo/ipc.court.gov.cn]